Skip to Content
Cub Scouts for Youth Kindergarten to 5TH Grade
Start Your Exciting Journey in the Cub Scouts
There is no better program for Boys and Girls from Kindergarten to 5th grade than Cub Scouting. Through activities, crafts, and games Cub Scouts have fun while they learn values that will serve them for a lifetime. While doing these activities they earn badges and awards. They discover the satisfaction of achieving what they set out to do. This builds their self-esteem and self-confidence. The Cub Scout Motto is, "Do Your Best" and that is the standard their projects and advancements are based. This allows for all children to succeed in the program. While they are having fun they are learning about the world around them. You will be amazed how your child looks forward to learning more and more every meeting. In addition, they develop friendships with their fellow members. Today children need friends they interact with in person and Cub Scouting provides this.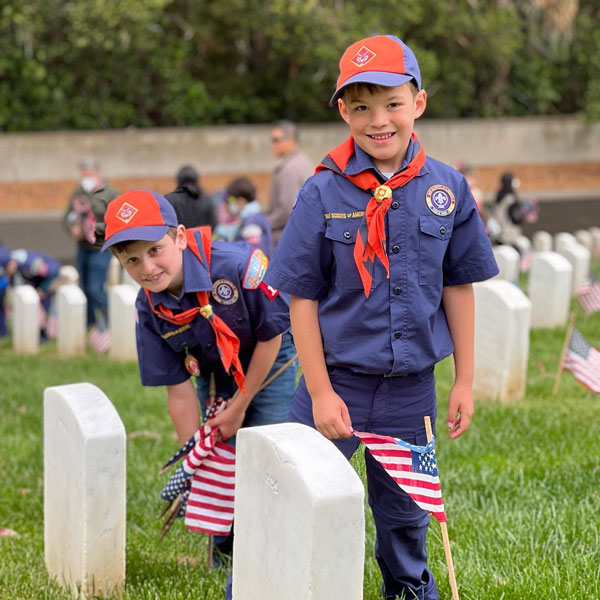 A Program With a Mission
The Boy Scouts of America has a mission to prepare youth to make moral and ethical decisions during their lives. We instill this quality in them through the values we teach in our Scout Oath and Law. Scouting has four aims for participants to develop: citizenship, character, personal fitness, and leadership. Cub Scouts learn to belong to a den, living the ideals of scouting, advance, serve the community, engage in activities, stay involved with their families, and wear the uniform through various activities and learning opportunities. Our goal is to help active Cub Scouts grow into the best versions of themselves throughout their childhood, adolescence, and adulthood.
Find Growth & Adventure in the Boy Scouts of America